Originally from Eastern Washington, Steve is the son of a 4th generation apple farmer. Having started with computers at a young age he is well versed at anything and everything digital and even started building websites for businesses in the early 2000's. His 40 yard dash time is in the lower 4 seconds, and better than Lebron's
(801) 432-0676
steve@webaholics.co
Originally from Kansas, Tommy is an MMA fighter with a hobby in Racing and graduate from The University of Kansas. His talent and dedication is what makes him a valuable asset to any marketing campaign as he puts 110% into everything he does.
(801) 432-0676
Originally from Oklahoma, and now living in Georgia, James is our remote member of the Webaholics team. He enjoys family life and hitting up the gym. He excels at e-commerce, order fulfillment, and typing up random blogs.
(801) 432-0676
james@webaholics.co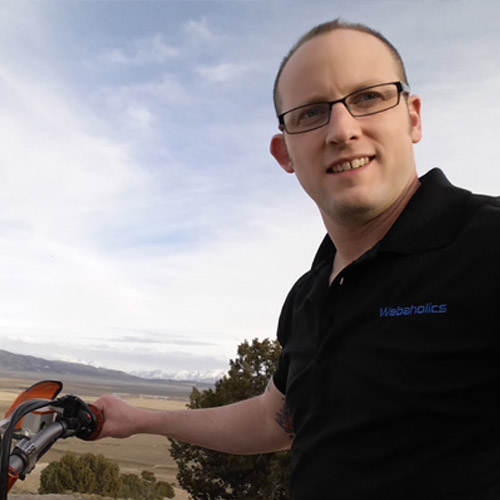 A Utah native, Jesse is a self-made fitness guru and car enthusiast. His passion for his hobbies transfers to his work and decision making. Jesse specializes in e-commerce, product management, and Amazon sales with a knack for marketing automotive parts.
(801) 896-7728
jesse@webaholics.co
Originally from Southern California, Steve is our Web App Specialist. He enjoys family life and video games. He excels at javascript, PHP, HTML, and CSS.
(801) 432-0676
light@webaholics.co
Luke is an E-Commerce specialist with knowledge in anything that has to do with Amazon. He is a native Texan, metal head, and zombie survival enthusiast.
(801) 890-3839
luke@webaholics.co
A graduate of the University of Utah, Chad specializes in graphic design, content management, and brand promotion for clients and Webaholics. He is an avid sports enthusiasts and participant, outdoors lover, and travels as much as possible in his spare time.
(801) 896-3265
chad@webaholics.co
Alyssa is a graphic designer from Utah and on occasion a loquacious bookworm. Generally, you can find her hiding from big crowds tucked strategically behind a corner surreptitiously doodling passersby or at the Natural History Museum staring down a local velociraptor for a few hours till she obligingly steps onto my sketchbook page. If you spot her doodling in the wild, feel free to look over my shoulder and have a chat.
(801) 890-3839
alyssa@webaholics.co
A co-owner of Motion State, a production company that specializes in action sports, commercials, music videos, movies and tv work. Amber has a passion for producing content and design. When she is not traveling she loves to snowboard, surf, bike, yoga and is learning jiu-jitsu.
(801) 890-3839
amber@webaholics.co
Working as our client relations expert gives Kallie the opportunity to raise her children and work from home. Kallie has over 10 years experience in customer services and strives to make every client satisfied. She enjoys traveling, outdoor activities, and quality time with friends and family.
(801) 432-0676
kallie@webaholics.co
The newest addition to the sales department. Born and raised in Utah. She loves adventure whether its around Utah, outside the country, or in Tamriel specifically Skyrim. She expresses her creativity through cooking and baking.
(801) 410-0419
aubree@webaholics.co
Klaus may look tough, but he is a sweetheart and greets everyone that comes into the office with a smile. He also loves cheese and will come running from the other side of the office if he hears you open it.
Start Your Online Journey With Us Today!
Join the Webaholics Team Today, Dont Wait for an Opportunity, Create It!
Explore Careers