Originally from Eastern Washington, Steve is the son of a 4th generation apple farmer. Having started with computers at a young age he is well versed at anything and everything digital and even started building websites for businesses in the early 2000's.
(801) 432-0676
steve@webaholics.co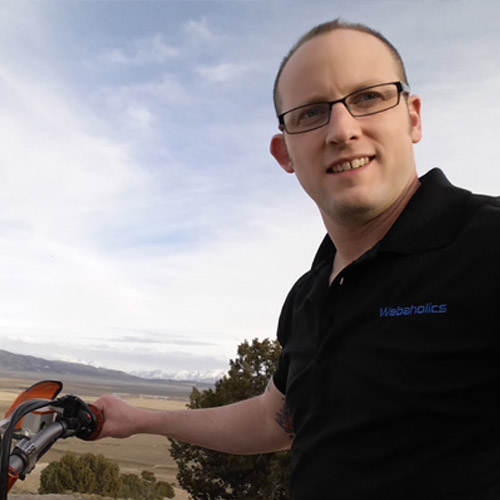 A Utah native, Jesse is a self-made fitness guru and car enthusiast. His passion for his hobbies transfers to his work and decision making. Jesse specializes in e-commerce, product management, and Amazon sales with a knack for marketing automotive parts.
(801) 896-7728
jesse@webaholics.co
A graduate of the University of Utah, Chad specializes in graphic design, content management, and brand promotion for clients and Webaholics. He is an avid sports enthusiasts and participant, outdoors lover, and travels as much as possible in his spare time.
(801) 896-3265
chad@webaholics.co
Earning a Bachelors of Programming and was a former high-up employee of Domo, Will has established himself as one of the best app developers in Salt Lake City. He spends most of his free time with family while not coding.
(801) 432-0676
will@webaholics.co
A Texas native living in Utah, La Dayna went to school for Communication with an emphasis on print journalism. She has a passion for networking, people, and online marketing/social media. In her spare time, La Dayna enjoys traveling, yoga, hiking, and visiting craft breweries.
(385) 275-5944
ladayna@webaholics.co
Working as our client relations expert gives Kallie the opportunity to raise her children and work from home. Kallie has over 10 years experience in customer services and strives to make every client satisfied. She enjoys traveling, outdoor activities, and quality time with friends and family.
(801) 432-0676
kallie@webaholics.co
A graduate from Weber State University with a Bachelors of Finance, Kelly's true passion is his love web development. After a few classes in college and a lot of online learning he started his career in web development, he is truly a Webaholic now. While not working, he likes to skateboard, snowboard, and kicking it with his homies.
(801) 893-1538
kelly@webaholics.co
Being very technically minded, Alex enjoys and specializes in solving complex problems using various programming languages. He has been addicted to the life of software development for over 7 years. In his spare time, he likes outdoor activities, traveling, creating works of art, and even experimenting with electronic circuit designs.
(435) 398-4109
alex@webaholics.co
A co-owner of Motion State, a production company that specializes in action sports, commercials, music videos, movies and tv work. Amber has a passion for producing content and design. When she is not traveling she loves to snowboard, surf, bike, yoga and is learning jiu-jitsu.
(801) 432-0676
amber@webaholics.co
Chase started his software development career at 13. He's made several apps, with two reaching the top charts before he had even turned 15. He's been invited to Apple's World Wide Developers Conference twice, once on a scholarship from Apple. He's a full-time employee and a full-time student at the University of Utah. If you want a dope a** app, he's your guy.
(385) 275-8062
chase@webaholics.co
Chris is very passionate about design. He received his multimedia degree with highest honors and top of his class. With over 16 years of graphic design experience, he has designed thousands of websites of every scope. When he isn't working he is most likely disc golfing and also enjoys camping, hiking, and anything involving the outdoors.
Klaus may look tough, but he is a sweetheart and greets everyone that comes into the office with a smile. He also loves cheese and will come running from the other side of the office if he hears you open it.
From painting our office walls, to packing pallets, to assisting Jesse, Mar is the resident ``girl Friday`` here at Webaholics. Originally from Vermont, she has lived in Utah for the past eleven years. She is a full-time student at Weber State University. In her free time, Mar enjoys spending time with her three daughters, hiking, geocaching, gardening, floral arranging, and crafting.
Originally from Oklahoma, and now living in Georgia, James is our remote member of the Webaholics team. He enjoys family life and hitting up the gym. He excels at e-commerce, order fulfillment, and typing up random blogs.
(801) 432-0676
james@webaholics.co
Originally from Southern California, Steve is our Web App Specialist. He enjoys family life and video games. He excels at javascript, PHP, HTML, and CSS.
(801) 432-0676
light@webaholics.co
Based in Yakima Washington, Adrian is the head of our sales team that is located in both Utah and Washington. He enjoys the outdoors and exploring the Cascades in his spare time
(801) 432-0676
adrian@webaholics.co
Start Your Online Journey With Us Today!
Join the Webaholics Team Today, Dont Wait for an Opportunity, Create It!
Explore Careers