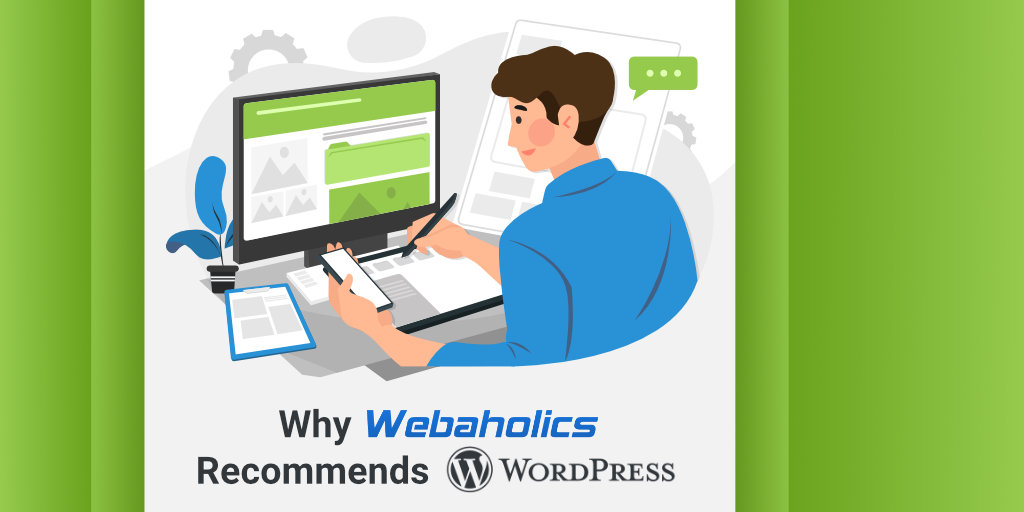 First, what is WordPress? WordPress is a CMS (Content Management System) that is free and open-source for anyone to download. It is continuously updated and improved by dedicated developers who are adding new features and patching security holes as soon as they are found. Without further ado take a look at the 8 reasons Webaholics loves WordPress:
1. Flexibility
What can you do with WordPress? Well, anything.
The reason why WordPress is so darn flexible is that it is designed to work with themes and plugins. You can think of WordPress as the skeleton, the Theme as the skin, and Plugins as the muscle. There are hundreds of solid themes & plugins to choose from, so the skies the limit when choosing the look and feel of your website. 
Plugins add new functionalities to your site with a couple of clicks. If you want an e-Commerce website the Woocommerce plugin is all you need. If you want to build a membership site there are plugins for that. For nearly every functionality that you can think of, there is a plugin for it. To get an idea of what can be done with WordPress take a look at our Portfolio. 
2. Customizability
Your business is unique. Your website should be too. Every aspect of a WordPress site can be changed from the layout to the color scheme. Bespoke designs can easily be achieved with WordPress so that your brand can stand out from the pack. 
3. WordPress allows us to build websites quickly
By combining a theme like Salient with a page builder plugin like WP Bakery we can build websites in a fraction of the time and a fraction of the cost than if you had your website hand-coded from scratch. With WordPress, there is no need to reinvent the wheel. 
4. Easy to manage and maintain
Occasionally we will have clients ask us to rebuild their website because a previous web developer built it in such a way that even the simplest changes were inordinately difficult. We use high-quality themes and plugins that are easy to use, edit, maintain, and update. 
After we complete a website we show our clients how to edit and maintain their site and answer any questions that they may have. In the long run, this saves our clients a lot of money, because they only need to make support calls for the big stuff. Any small changes they need can easily be made in house. 
This does come with one caveat. Badly coded and designed themes and plugins can be a nightmare to maintain, which is why if you decide to use WordPress as your CMS you should only hire reputable developers that insist on only using high-quality themes and plugins. 
5. WordPress has good technical SEO right out of the box
WordPress is designed to be easy for search engines including Google to crawl and index. The code is regularly updated and kept up to date with current web standards. On top of WordPress's core, plugins like Yoast SEO can be added to your site for more in-depth SEO strategies. 
6. Security
This one also comes with a caveat. To keep your WordPress website secure, you must keep it up to date and vet which plugins and themes you install thoroughly. 
As long as those two requirements are met, WordPress is an extremely secure CMS. WordPress developers keep an eye on potential security issues and update the core with security patches as soon as an exploit is discovered. Security on the web is an endless battle and as long as you keep your site up to date you can stay on the winning side. 
7. Robust Media Management System
Whether you need to add images, documents, audio, or video to your site, WordPress has an easy to manage and use media management system. It really is as simple as dragging and dropping your media onto your site. 
8. WordPress is the most popular CMS system in the world. 
In 2020 WordPress was used by more than 30% of websites worldwide. When it comes to CMS systems WordPress is a big player and one of the reasons it has done so well is the quality code and continual updates to WordPress's core.
A major benefit to this popularity is the army of developers creating and improving themes and plugins that expand WordPress's base functionalities, so that you can "plugin" all of the features you need while keeping your site fast, lean and efficient. 
Convinced? Why not start your web development agency search with Webaholics? Send us an overview of the kind of site you need and we'll send over a free quote and answer any questions you may have. Shoot us an email at info@webaholics.co or give us a call at (801) 890-3839 and we'll answer any questions you may have.