What can e-Commerce do for your business? With smartphones, tablets and computers, buying online has never been easier. e-Commerce is a constantly growing market. It has a worldwide presence with an estimated 1.8 billion people purchasing goods online in 2018. Your customer base no longer needs to be held back by geographic limitations. e-Commerce can establish a wider market presence by providing cheaper and more efficient distribution channels for your product and services.
There are four types of e-Commerce:
e-Commerce is the buying and or selling of goods and services over the internet, on smartphones, tablets and computers. 
Business to Business
Business to Consumer
Consumer to Consumer
Consumer to Business
e-Commerce businesses tend to specialize in one or two of these categories. To turn your online business into a well oiled machine you need to focus on the type of audience you are trying to reach. Start big then drill down to more specific factors.
Business to Business is just as important as Business to Consumer. Without having products or materials to purchase or build their goods or services with, a Business will have no products or goods to sell to consumers. Consumers can leave feedback on sites, stores and selling platforms. These reviews are a form of Consumer to Business service. Reviews will either help drive consumers to you or away from you.
Why is e-Commerce important for your brand?
Using online selling platforms can help to extend your brand's reach. It will help take your company from a traditional storefront to a well loved brand, for anyone, anywhere. You will be able to facilitate a larger selection of products online; sizes, colors, brands and services.
You can increase your reach quicker and wider than with a traditional storefront. Anyone from around the world can view your products, anytime. More people people are on the internet shopping than walking outside of your store.
With an online store you can have more marketing opportunities, ads and selling platforms that can lead consumers directly to your website. You can get more personalized information on your website through emailing lists and accounts on your website/store. With this information you'll be able to market to specific groups of people.
Most importantly e-Commerce is scalable, you can continually grow your business. You don't need to worry about moving locations from lack of foot traffic or lack of space. With online check outs you will have more payment options. This is huge for consumers since being able to use their choice of payment will make purchasing products/services easier.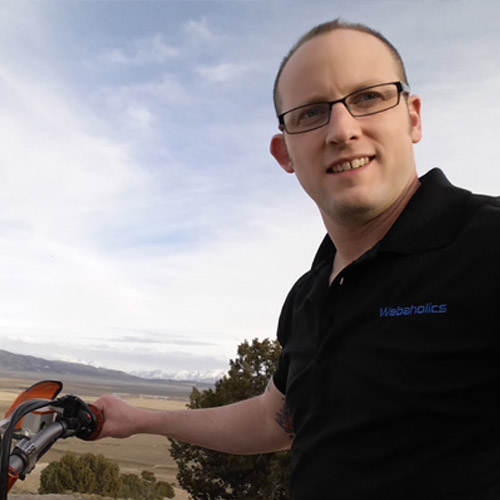 Meet our e-Commerce team 
Jesse is our go to e-Commerce expert who also happens to be a wizard when it comes to bulk operations on our selling platforms He created an effective system that allows us to efficiently and easily post thousands of products online. He keeps track of profits, losses and ensures sure that our e-Commerce business runs smoothly, increasing our profits over time. For just about any e-Commerce question you have, Jesse has the answer.
Steve is our Co-Owner and founder of Webaholics, Steve can sell you any product or service you didn't know you needed. Steve is a genius when it comes to Website development, and online sales.
La Dayna is our main support and store manager that handles all customer service and order placements through our Amazon, eBay, Walmart, and website channels.
Our Experience
We've been in the e-Commerce business for 10+ years, so we know it like the back of our hands. Whether you want to sell using Woocommerce and WordPress or on Amazon, eBay or Walmart we've got you covered since we specialize in all four.
We trust our process so much we are our own clients. We created an e-Commerce store, The D-Zone and maintain profitable accounts on Amazon, Ebay and Walmart. You won't be getting outdated advice and services from consultants who haven't sold online in years. e-Commerce is our business and we're up to date with the latest trends, because we have to be.
How Can We Help?
Building a successful e-Commerce business can be hard, but that's where we come in. We've been in the e-Commerce business for over 10 years. Our services are based on hard earned experience. Get an insider's view, tips and tricks to help kickstart your online business.
At Webaholics we're seasoned experts who can take your e-Commerce business to the next level.
Want to learn more? Give us a call at (801) 890-3839, or shoot us an email at info@webaholics.co.