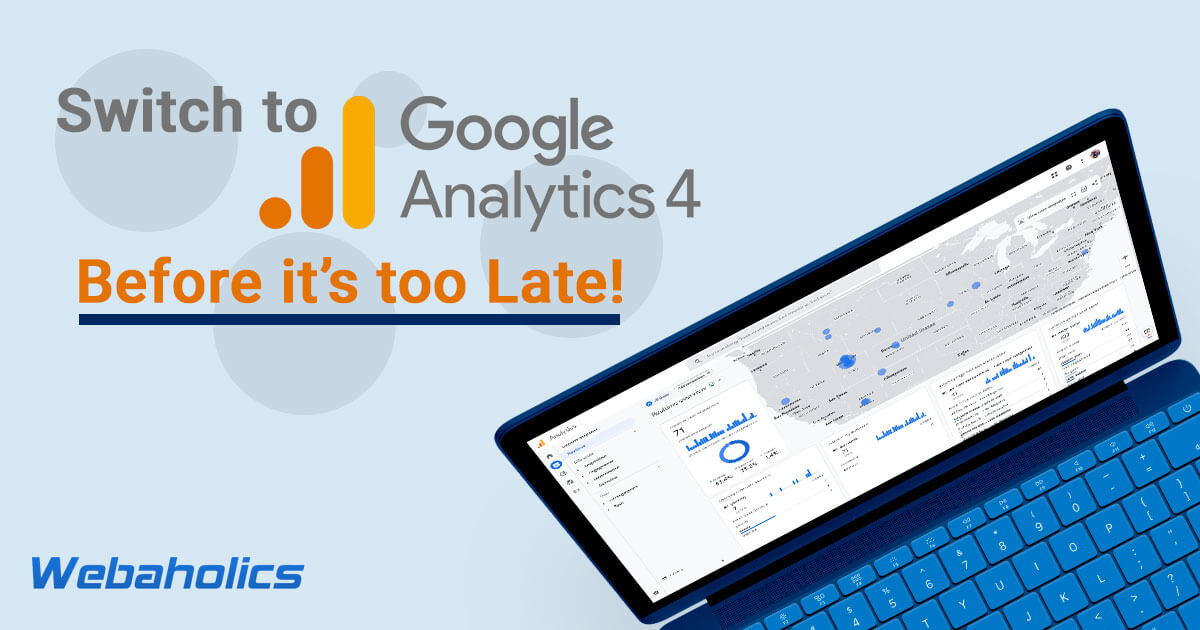 Why Was GA4 Created?
Before diving into the switch, let's talk about what sparked the need for a new reporting platform in the first place. GA4 was originally created to completely revamp data collection. The new platform makes it possible to track a user's journey across device types, as well as address previous privacy concerns with third-party cookies. GA4 tracks apps as well as websites give users more privacy control, offers more customizable reports, and utilizes machine learning.
Since the deadline to switch is the summer of 2023 and reports between UA and GA are quite different, it's best to switch as soon as possible. Not to mention, Google Analytics 4 blows Universal Analytics out of the water when it comes to reporting, measurement, and automation.
GA4 vs UA Measurement
One of the main features of GA4 is that it allows for full cross-device reporting while UA was limited. This essentially means that while UA was built to just track only website activity, GA4 was built to track app activity as well as website activity and understand when users move back and forth between devices.
You'll notice in the admin section of GA4 that you no longer have views, but you do have data streams. Data stream allows you to collect data through websites, IOS apps, and Android apps, whereas UA only allowed for tracking through websites.
GA4 Reports
Within GA4, a reports section still remains. Some things never change! There are however differences regarding how metrics are reported.
Traffic Acquisition
Traffic acquisition remains largely unchanged. You may notice that there are fewer options in the dropdown menus on the side of the screen, allowing for a cleaner interface that is highly customizable. Just on the pencil in the right-hand corner of the screen to filter for what you are looking for.
Engagement Overview
Engagement is still user-focused, although the way that users are measured has been changed. There are three categories of users:
New user – someone who visits your site for the first time (both UA and GA)
User – Someone visits your site on a desktop and then mobile. This is counted as two users. (UA)
Active user – Someone visits your site on mobile and then on desktop. This is counted as one active user. (GA)
Sessions vs Events
Arguably the biggest reporting difference within the new GA4 platform is that everything is based on events vs sessions. Under engagement > events, you can see the standard set of events that GA4 automatically includes, as well as any events that you choose to add yourself. For more information on how to create your own event,
check out how to create custom events in GA4.
Conversions
The new interface uses conversions rather than goals to track conversions. To set up conversions, simply go to the configure section and toggle the event you want to mark as a conversion.
GA4 Reports Takeaways
The new interface collects data more accurately and simplifies reporting. At first, it may seem like some of your favorite reporting sections are missing, but don't forget that everything is customizable to your liking.
GA4 Automation
While UA used limited automation, GA4 utilizes machine learning to predict future behavior such as how likely a customer is to make a purchase. GA4 also has completely revamped the debugging feature by implementing an entire section called Debug View.
Within this view, you can check incoming data instantly without having to wait hours.
Switch to Google Analytics Today!
Don't wait until late spring to switch. By summer, UA will stop tracking and you won't have any of that data to compare to Google Analytics 4 while trying to navigate a new platform. At Webaholics, we can make the switch for you in no time and walk you through the new layout.
Contact Webaholics for more information on the GA4 migration.